AWCCA'S COMMITMENT TO THE COMMUNITY
AWCCA proudly supports Arizona-based nonprofit organizations that are deeply committed to improving the communities where our members live and work. Through our annual charity golf tournament, our holiday party and other activities throughout the year, we donate funds and goods such as clothing, personal care items and toys to help those who need it most.
At the end of each meeting year and in accordance with AWCCA's bylaws, the Executive Committee donates a portion of the organization's available funds to designated area nonprofits. Since AWCCA's inception, charitable donations have totaled hundreds of thousands of dollars.
AWCCA SUPPORTS THESE NONPROFIT ORGANIZATIONS WHO ARE DEDICATED TO SERVING OUR COMMUNITY: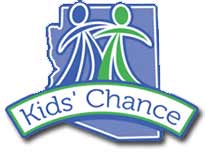 Kids' Chance of Arizona provides scholarships to the children of Arizona's injured workers, and AWCCA has been a proud sponsor since the organization's inception in May 1996. Kids' Chance believes that by investing in the future of these deserving youngsters and helping them achieve their educational goals, they will have the knowledge and opportunities to succeed in the workplace, and be empowered to make a difference in their own and other people's lives.
Child Crisis Arizona's mission is to provide Arizona's children a safe environment, free from abuse and neglect, by creating strong and successful families. The organization offers a variety of programs designed to support the thousands of children in out-of-home care and to strengthen families who may be at risk. All of Child Crisis Arizona's work is centered on their vision of Safe Kids. Strong Families.

Phoenix Children's Project is a volunteer-based organization which helps children living below the poverty level in the metropolitan Phoenix area. It provides youngsters with food, clothing and every day essentials, and teaches them skills to become healthy, responsible and contributing adults. Its neighborhood community center provides a safe environment for kids to learn and play. Phoenix Children's Project accepts no government funding; it operates solely on donations from AWCCA, other organizations and private individuals.